Exclusive Garden Venue
Dalen's has a variety of venue areas at your fingertips to either relax whilst reading a book or available to hire as a private space for a celebration. These areas include the stunning tropical pool that's designed with entertaining in mind.
Romantic getaways
At Dalen's we have a variety of apartments to cater for all type's getaways whether you're a businessperson just looking for accommodation while flying in and out from Lanseria international airport or if you and your partner are looking to relax and get away from the concrete jungle for a weekend to add some spice into your life, with a sense of satisfaction and an urge to keep coming back for more, at Dalens pleasing you is our utmost priority.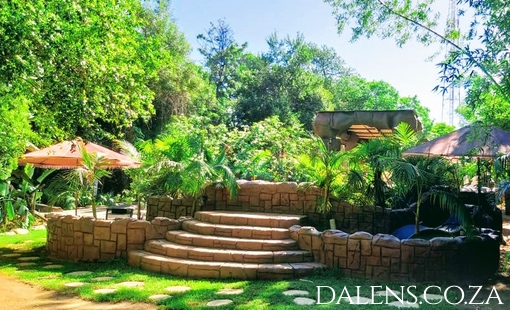 Exotic Swimming Pool in the Cradle of Humankind
During November we officially opened our new swimming pool area. We now boast an Exotic Pool and Palm Paradise in the Cradle of Humankind, just 5 minutes from Lanseria airport.
Dalens is a Cradle choice intimate venue for weekend escapes and breaks, business travellers during the week, and exclusive private parties and functions for those who book out the entire property. 6 individually unique self-catering apartments, with private gardens, their own braai facilities and now an incredibly beautiful pool area and fire-pit for those colder months of the year.
Luxury Self-Catering Accommodation in Lanseria
Dalens Self-Catering Apartments offer upmarket accommodation amidst a lush exotic Palm and Garden Paradise, in a secure environment. Located in the Cradle of Humankind, just 4km from Lanseria airport. We have six individually styled self-catering units that can sleep between 1-4 adults (age 18 and over). You won't find more convenient and beautiful accommodation in the Cradle, especially with our stunning Palm Pool Paradise
Whether you're a business traveller during the week, looking for a weekend escape from the business of Johannesburg or Pretoria (just a stones throw away), or a small intimate venue for private celebrations (must book out all units), Dalens Self-Catering Accommodation is the perfect place to stay.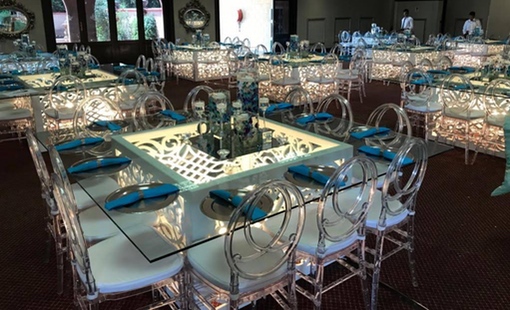 SA EVENT DECOR
As we now offer business meeting venues, securing a trusted and well known partner for tables and decor was a top priority. Dalens is exclusively using SA Events Decor for tables and decor in our meeting venues, ensuring only the best possible service and quality for our business guests.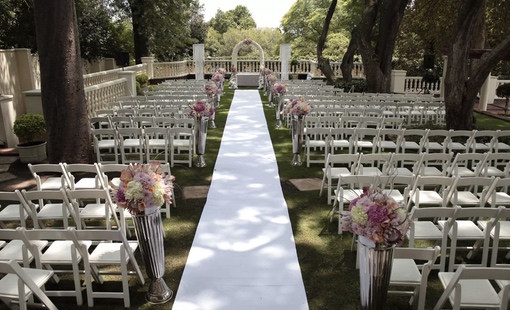 SA WEDDING DECOR
Dalens is now available as an intimate wedding venue, and we're incredibly excited about our partnership with SA Wedding Decor. For over a decade SA Wedding Décor has been turning special occasions into ever-lasting memories and it's all thanks to the skilled and passionate team lead by professional corporate and wedding décor specialist Amanda van Dalen.
Dalens Luxury Self-Catering Apartments